Alumni Mba Ponts Morocco association was created in 2001 and represent today around 1000 Alumni's including leaders and well-recognized names who excel in various domains and contribute in the country Economic & Social Development. We are honored to have been elected on September as new executive board for 2018 through 2020. We are looking forward to working together with all Alumni's Mba Ponts across the globe to achieve the best.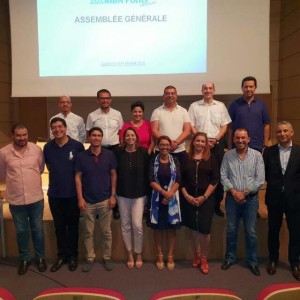 Vision: Our aim is to be the bridge toward excellence, creating value for Alumni's & Community.
Mission: Strengthen Alumni's community & capitalize on network,  while creating business & carrier opportunities, through Virtual platforms &  events: such us Weeklies tea time, monthly Meet Ups, Conferences, Social activities and Clubs
« Bridges toward Excellence » is the program of MBA Ponts Alumni Morocco Association established by the new board, in order to create value among Morocco Mba Ponts alumni community based on three pillars Connect, Grow & Give Back.
Meet Ups
The first Meet Up took place on October 25th at Kenzi Tower Hotel in Casablanca, the event agenda.
Included Business Speed dating & Conference, addressing "The Bridge toward Entrepreneurship " an opportunity for 80 Alumni Attendees to network, learn from others experiences and get inspired by 3 Imminent experts to cross the bridge toward entrepreneurship.
The Second Meet Up took place on November 29th in the prestigious Hotel Le Casablanca addressing " Le Bonheur au Travail " 70 Attendees interacted with an international Speaker : Mostafa Kandar
1st Meet up speakers
Fatim Zahra Biaz : Entrepreneur & Change Catalyst
Ismail Lahsini : Entrepreneur et Mentor, TV Anker
Adil Lamnini : Strategy Architect
Weeklies
Every Wednesday evening Alumni's get together in informal relaxed « Weekly » tea time, in both Rabat and Casablanca, sharing and discussing ideas, exploring collaboration options and building friendly relationship between alumni from different cohorts and also with distinguished guests.